Today we're talking to Tom Marshburn, an astronaut for NASA; and we discuss leadership lessons learned in space; Tom's toughest moments aboard the International Space Station; and the technology that will one day get humanity to Mars.
All of this right here, right now, on the Modern CTO Podcast!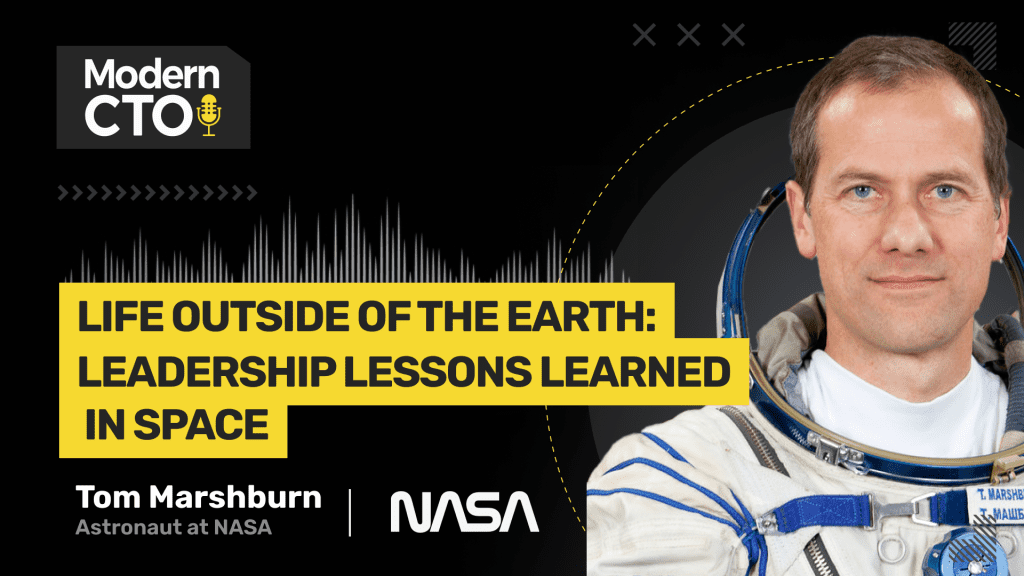 About Tom Marshburn:
Dr. Thomas H. Marshburn was selected by NASA in 2004. He holds a Bachelor of Science in Physics from Davidson College, North Carolina; a Masters in Engineering Physics from the University of Virginia; a Doctorate of Medicine from Wake Forest University; and a Masters in Medical Science from the University of Texas Medical Branch. The North Carolina native is a veteran of three spaceflights, STS-127, Expedition 34/35, and Expedition 66/67 as part of Crew-3. Prior to becoming an astronaut, Dr. Marshburn served as a Flight Surgeon, assigned to Space Shuttle Medical Operations and to the joint U.S./Russian Space Program and eventually became the Medical Operations Lead for the International Space Station. He served as pilot of the NASA SpaceX Crew-3 mission to the International Space Station, which launched on November 10, 2021. Marshburn served as a flight engineer on Expedition 66 and commander of Expedition 67 during that mission. NASA's SpaceX Crew-3 astronauts safely splashed down Friday, May 6, 2022, aboard the Dragon Endurance spacecraft completing the agency's third long-duration commercial crew mission to the International Space Station. The international crew of four spent 177 days in orbit.
About NASA:
For more than 60 years, NASA has been breaking barriers to achieve the seemingly impossible—from walking on the Moon to pushing the boundaries of human spaceflight farther than ever before. We work in space and around the world in laboratories and wind tunnels, on airfields and in control rooms to explore some of life's fundamental mysteries: What's out there in space? How do we get there? And what can we learn that will make life better here on Earth?
We are passionate professionals united by a common purpose: to pioneer the future in space exploration, scientific discovery and aeronautics research. Today, we continue NASA's legacy of excellence and innovation through an unprecedented array of missions. We are developing the most advanced rockets and spacecraft ever designed, studying the Earth for answers to critical challenges facing our planet, improving the air transportation experience, and so much more.