Today we have an episode of our newest podcast, Tech Titans. It features summary episodes of our best leadership advice from Modern CTO. Robert Zuber, CTO at CircleCI, joins us in this episode to share his greatest leadership advice on how to lead a team to connect value to the customer, and his own journey to the position of leadership he's in now.
All of this right here, right now, on the Modern CTO Podcast!
Check out more of Rob and CircleCI at https://circleci.com/
Check out more about Tech Titans on Spotify, Apple, and iHeart!
Produced by ProSeries Media.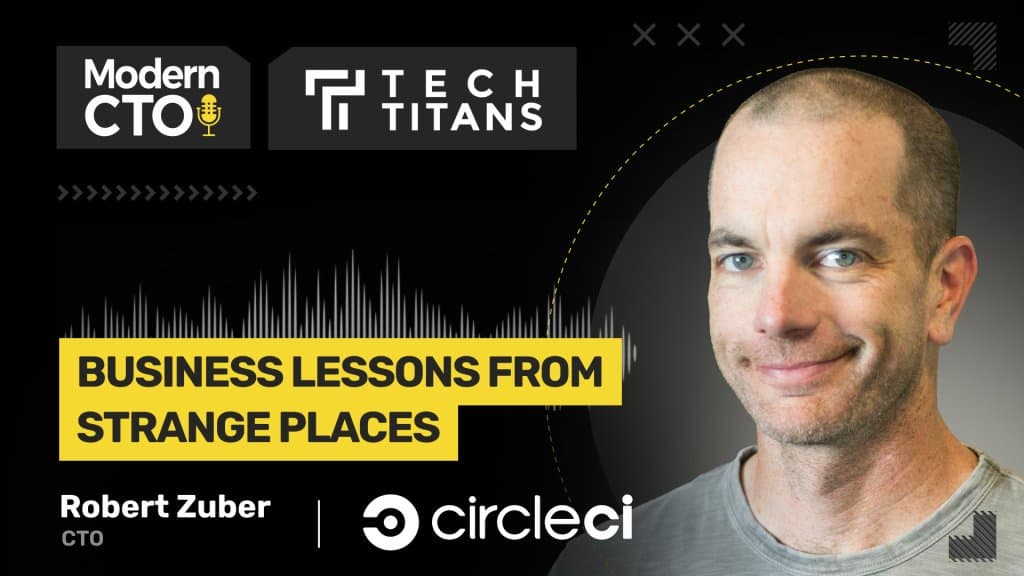 About Rob Zuber:
Rob Zuber is a 20-year veteran of software startups; a four-time founder three-time CTO with past investments from Google Ventures, Relay Ventures, and Foundation Capital as well as exits to Appconomy and CircleCI. Since joining CircleCI as CTO three and a half years ago, Rob has seen the company through its $18 million Series B and delivered on product innovation at scale: CircleCI now processes more than a quarter of a million tasks per day and nearly 7 million builds every month. Over that same period, Rob has grown CircleCI's engineering team four-fold as it has been recognized as one of the Bay Area's Best Places to Work by the San Francisco Business Times. In addition to overseeing teams in San Francisco and Toronto, Rob also leads a global team of CircleCI engineers across 9 countries and 10 different time zones.
Prior to CircleCI, Rob was the CTO and Co-founder of Distiller, a continuous integration and deployment platform for mobile applications acquired by CircleCI in 2014. Before that, he cofounded Copious an online social marketplace. Prior to Copious, Rob was the CTO and Co-founder of Yoohoot, a technology company that enabled local businesses to connect with nearby consumers, which was acquired by Appconomy in 2011.
About CircleCI:
CircleCI is the software delivery engine for teams who want to ship software faster and with confidence.
We do this today by building the world's best platform for Continuous Integration and Continuous Delivery (CI/CD). Ultimately, we plan to map every source of change for software teams, so they can accelerate innovation and growth.
Our platform was built by a team of DevOps experts who understand how critical CI/CD is to your entire development process and your entire business. The best software teams know that speed, focus, and consistency of delivery make the difference between good and great. We built CircleCI to deliver on these promises so you can deliver on yours — to reliably bring only the highest quality products to your customers.
CircleCI is proud to be an Equal Opportunity and Affirmative Action employer. We do not discriminate based upon race, religion, color, national origin, sexual orientation, gender, gender identity, gender expression, transgender status, sexual stereotypes, age, status as a protected veteran, status as an individual with a disability, or other applicable legally protected characteristics. We also consider qualified applicants with criminal histories, consistent with applicable federal, state and local law.