Today we're talking to Rosie Rivel, CIO at BigCommerce. We discuss how Rosie is facilitating difficult but necessary conversations in her teams, the tenets of servant leadership in an era of uncertainty, and how to balance delivering on time with delivering on budget.
All of this right here, right now, on the Modern CTO Podcast!
For more about BigCommerce, check out their website here.
Have feedback about the show? Let us know here.
Produced by ProSeries Media.
For booking inquiries, email [email protected]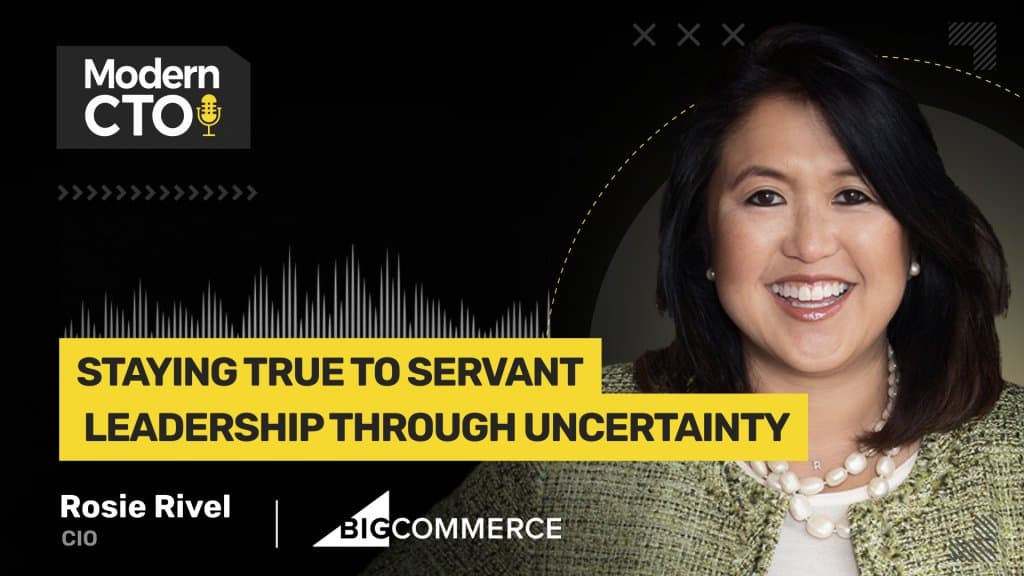 About Rosie Rivel
Seasoned IT professional with over 25-years of experience leading global Information Technology teams and transforming organizations for growth. Pragmatic, articulate leader who enjoys fostering relationships with internal and external stakeholders. A demonstrated history of empowering teams to innovate and deliver their best work. Proven track record of delivering on business objectives and implementing enterprise solutions on a global scale.
About BigCommerce
BigCommerce (Nasdaq: BIGC) is a leading Open SaaS ecommerce platform that empowers merchants of all sizes to build, innovate and grow their businesses online. BigCommerce provides merchants sophisticated enterprise-grade functionality, customization and performance with simplicity and ease-of-use. Tens of thousands of B2C and B2B companies across 150 countries and numerous industries use BigCommerce to create beautiful, engaging online stores, including Ben & Jerry's, Molton Brown, S.C. Johnson, Skullcandy, Solo Stove and Vodafone. Headquartered in Austin, BigCommerce has offices in London, Kyiv, San Francisco and Sydney.