Today we are talking to David Singleton, CTO at Stripe. And we discuss the operating principles that have led to their success and growth, why Stripe views itself as an infrastructure company, and valuable tips for running a hybrid remote culture.
All of this, right here, right now, on the Modern CTO Podcast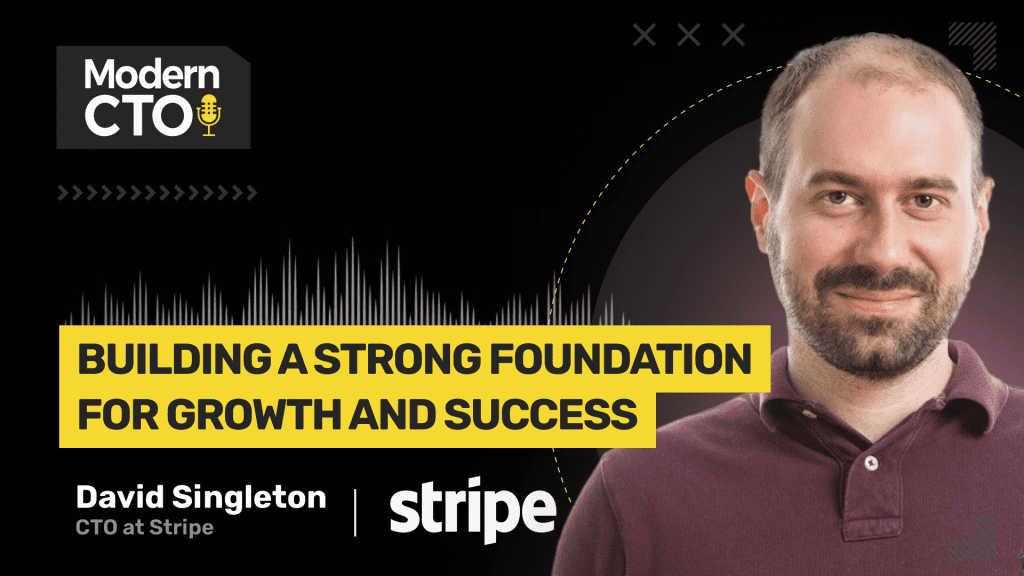 About David Singleton:
He joined Stripe from Google, where he was VP of Engineering, leading the Android Wear and Google Fit teams, which included product development and coordinating more than 15 different hardware partnerships. Over the course of his 11-year career at Google, David led teams that built some of the company's most ambitious products, including its first apps with voice search; publisher products for Google Adsense; Google Offers; and Google Mobile Search Apps. He was also one of the first engineers at Google London and oversaw much of the growth of the London engineering office from inception to the large scale it has today.
Prior to Google, David spent three years as a senior engineer at Symbian, the pioneering mobile phone operating system. At Symbian, he developed software for Nokia and Samsung smartphones and worked on both the Bluetooth stack and PC Connect software.
David has a bachelor's degree in Computer Science from St. John's College at the University of Cambridge. In his spare time, he enjoys cooking, skiing, and tinkering with neural networks. He lives in San Francisco with his wife and two kids.
About Stripe:
Stripe is a technology company that builds economic infrastructure for the internet. Businesses of every size—from new startups to public companies like Salesforce and Facebook—use the company's software to accept online payments and run technically sophisticated financial operations in more than 100 countries. Stripe helps new companies get started and grow their revenues, and established businesses accelerate into new markets and launch new business models. Over the long term, Stripe aims to increase the GDP of the internet.