Today we're talking to Eriona Hysolli, Head of Biological Sciences at Colossal Biosciences; and we discuss how Colossal is working on bringing wooly mammoths back from extinction, the role de-extinction will play in conservation in the future, and the DNA editing and printing technology that's being used for de-extinction efforts.
All of this right here, right now, on the Modern CTO Podcast!
Check out more of Eriona and Colossal at https://colossal.com/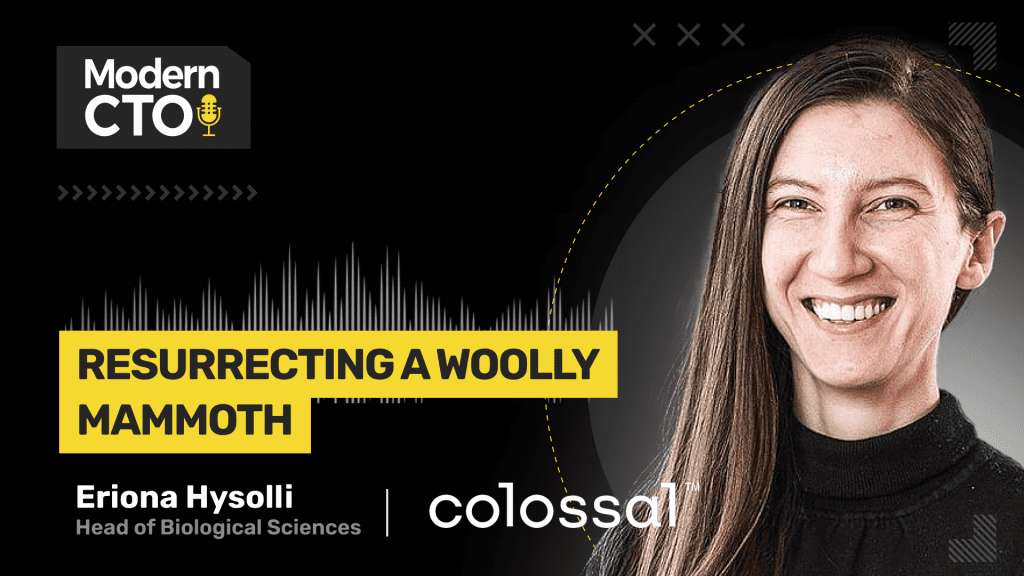 About Eriona Hysolli:
Eriona Hysolli, Ph.D., is the Head of Biological Sciences at Colossal. Previously, she was a postdoctoral fellow in the laboratory of George Church, PhD., Harvard Medical School from 2015 – 2021, where she focused on developing and optimizing novel genetic tools for multiplex mammalian genome engineering including mammoth de-extinction and building a virus-resistance human cell line. Eriona graduated summa cum laude from Rutgers University with a double major in Neuroscience and German and a minor in Chemistry, then pursued graduate research at Yale University. At Yale, she studied the gene expression changes as human somatic cells transition to human embryonic stem-cell-like cells (iPSCs) that hold great potential in health and medicine. Eriona also studied how microRNAs modulate this process through epigenetic changes.
Eriona's authored publications include characterizing different populations of human iPSCs arising during reprogramming, setting up a human cell-bacteria co-culture model to study how biocontainment can be exploited for probiotic development, and multiplex editing of TAG to TAA codons genome-wide in human cells. Unpublished work includes engineering mammoth traits in elephant cells, comprehensively characterizing via computational analysis all DNA changes that make mammoths different from extant elephants, and visualizing ancient DNA in situ.
About Colossal:
At Colossal Biosciences, we endeavor to jumpstart nature's ancestral heartbeat. To see the woolly mammoth thunder upon the tundra once again. To advance the economics of biology and nutrition. To make humanity more human. And to reawaken the lost wilds of Earth. So we, and our planet can breathe easier.
These things, which were not achievable before, are now. In our laboratories. Through our breakthroughs in CRISPR and genetic engineering. We are leading the new charge of bioscience. We accept the responsibility. And we can see the light at the end of it all.